Phase 1 Belly Wrap Core Compression Postpartum Recovery Support
Regular price
Sale price
$64.95
Designed to aid you during your c-section or natural birth recovery. Made with the highest quality power net material that will naturally mold to your body.  Features three compression straps that allow you to comfortably adjust the level of compression and size while you heal. Integrated pockets allow you to effortlessly apply targeted heat or cold therapy to help soothe swelling, pain, cramps, and soreness.
Belly binding support to help stabilize core muscles and tissue  
C Section scar support from the inside out
Interior pockets in abdominal and lower back for heat and cold therapy
Helps with diastasis recti by aiding closure of the abdominal gap after pregnancy
Uniquely designed to provide you with lumbar and abdominal support during your recovery period
Made with high-quality power mesh compression material will mold to your body
Three adjustable straps allowing you to comfortably size up or size down
Please note reusable heat + cold gel packs, and wrap extender and are not included. You may purchase separately. 
When to start

For best results we suggest wearing your belly wrap for no less than 3 months postpartum. A belly wrap can be worn at any point of your postpartum phase and is effective with constant usage. 

Belly wraps can be worn immediately after delivery. We always suggest that you please obtain clearance from your physician or your birthing specialist. 
Sizing Tips

Made true to size. For a comfortable relaxed fit, with light compression, we suggest ordering one size up from your current size. For maximum compression, and tighter fit order your current size. 

If you are ordering while you are pregnant please order the extension which will give you 6 additional inches of length. 

Belly wrap extension 

To obtain the best fit please refer to our sizing chart. 
Care Instructions

Preferably hand wash & air dry.  
Belly Wrap Accessories
Add the extension for increased sizing & thermal-packs for hot & cold therapy.
Regular price

Sale price

$14.99
Postpartum healing starts with our Phase 1 Belly Wrap.
Quality recovery shapewear makes big difference in your postpartum journey. Prioritize yourself & your heatlh with Misty Phases.
Ancient techniques rediscovered
Our Phase 1 Belly Wrap was designed on 3 pricinples: regenerative, comfortable, & stylish. Our team of mothers researched ancient methods of postpartum healing and implemented our findings in our wrap.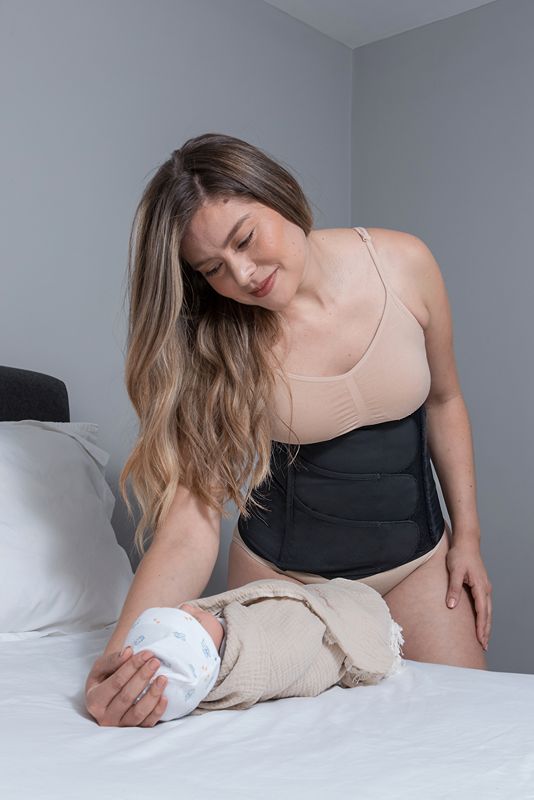 Healing.

Postpartum healing, both physical and emotional, is why we exist. We seek to make whatever phase you're in easier & more comfortable.

Form.

Designed in our Los Angeles studio by mothers.

Function.

Engineered to conform to your body with the highest standards possible.

Misty.

If you ever feel like you don't know where to start, we'd love to help.